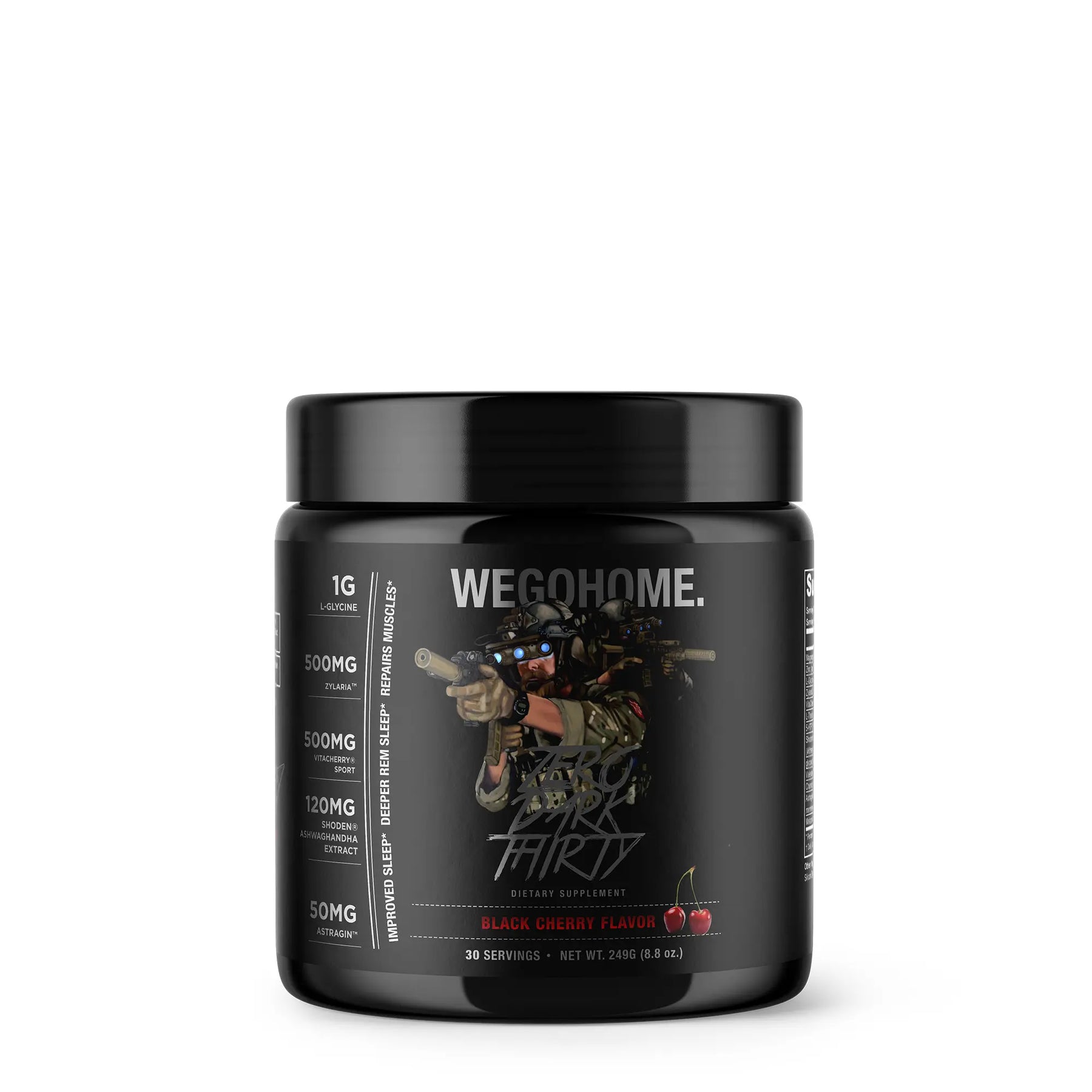 Sleep Aid
Zero Dark Thirty
Zero Dark Thirty
Sleep hard, kill inflammation, promote muscle recovery and kill cortisol
ZDT

Benefits:
Significant improvement in Restorative Sleep*
Vivid Dreams*
Deep REM Sleep*
Wake Up Refreshed*
Increased testosterone levels*
Increased DHEA-S levels*
Improvements in fatigue, vigor, well being*
Decreases in cortisol and estradiol*

Promotes recovery and gains*

Enhances performance*
ZDT Key Ingredients:

5-HTP may promote sleep by increasing natural melatonin production in your body.*
Valerian Root Extract 4:1 has been found to help people fall asleep faster, improve their sleep quality and spend more time in a deep sleep stage.*
Chamomile Extract supports healthy sleep & mood which is

attributed to an antioxidant called apigenin that can be found in abundance in Chamomile.*

L-Theanine may help people fall asleep quicker and easier at bedtime by enhancing the relaxation boost it delivers.*
L-Glycine is an inhibitory neurotransmitter that supports relaxation and healthy stress management. It also enhances detoxification by increasing glutathione production.

Research by the Ajinomoto Group has shown glycine, taken before bedtime, helps the body reach deep sleep more quickly. *

Magnesium Aspartate can improve sleep quality especially with people who suffer from poor sleep. Magnesium can also help insomnia that is linked to the sleep disorder restless-leg syndrome.*
Zinc Oxide helps to have less wake-ups in the night. It is an excellent & safe sleep aid with a calming & soothing effect. Along with helping to regulate sleep, Zinc has shown to improve the vividness of dreams.*
Melatonin can help you fall asleep sooner and stay asleep longer.*
Zylaria™ increases the uptake of GABA to specific brain cell receptors, exerting a tranquilizing effect on the central nervous system.*

Shoden® Ashwagandha

has been clinically studied for anxiety, stress, sleep-related conditions, vitality, and increased testosterone in men.*

VitaCherry® Sport  has 5x more concentration of anthocyanins compared to leading tart cherry powders via LC-MS(n), which helps protect against post-exercise muscle strength loss and soreness* and aids in muscle recovery.*
AstraGin® supports increased absorption of phytonutrients by up-regulating the absorption specific mRNA and transporters such as SGLT1, CAT1, and GLUT4.*
Suggested Use:
Mix 1 serving (1 scoop) in 8-10 oz of cold water and consume 30-45 minutes before bed.
* These statements have not been evaluated by the Food and Drug Administration. This product is not intended to diagnose, treat, cure, or prevent any disease.
Always consult with a qualified healthcare professional prior to beginning any diet or exercise program or taking any dietary supplement. The content on this website is for informational and educational purposes only and is not intended as medical advice or to replace a relationship with a qualified healthcare professional.
***WARNING*** Returned products must be sealed and not tampered with in any way. As the products are health food consumables and regulated by the appropriate Canadian or U.S. authorities and full details of the product including the complete list of ingredients are shown on our website, we regret that product cannot be returned due to flavour and consistency etc.