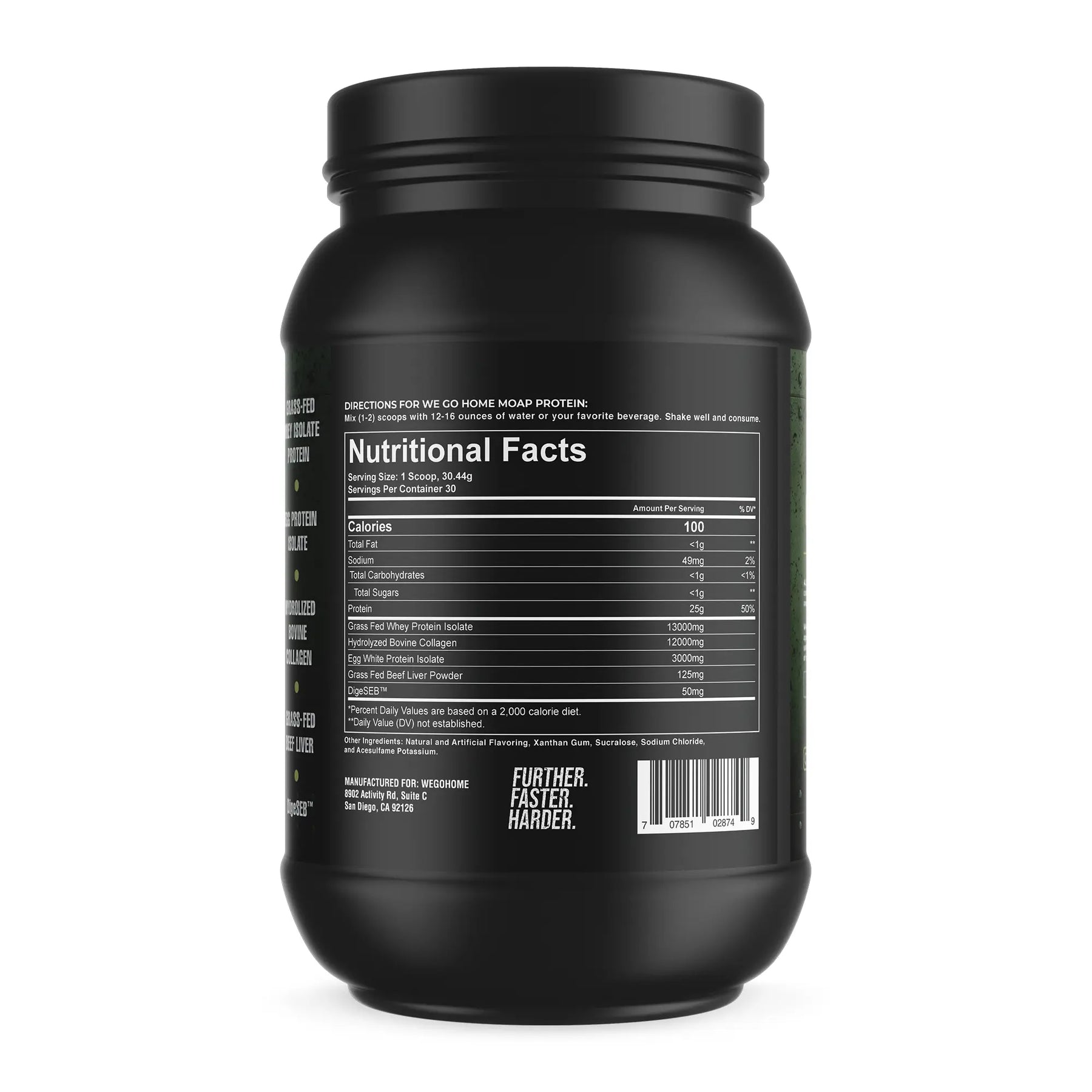 Intra & Post Workout Stack
Rebuild Stack
MOAP Flavor:
French Vanilla
What you take During and After your workout is important...
Introducing our powerful Intra & Post Stack - two incredible products provide everything you need to enhance your workout performance and recovery.
Hydrat3 is a powerful hydration supplement designed to keep you going strong throughout your workout. With a unique blend of electrolytes, minerals, and vitamins, Hydrat3 helps to replenish lost fluids and nutrients, while also boosting energy levels.
MOAP (Mother of All Protein) is our premium grass-fed protein powder, packed with 25 grams of protein per serving. This high-quality, transparent blend of Grass Fed Whey Isolate Protein, Egg White Protein, Hydrolyzed Bovine Collagen, Grass Fed Beef Liver Powder and DigeSEB (digestive enzymes) promotes optimal digestion and nutrient absorption for superior muscle growth and repair.
Combined, Hydrat3 and MOAP create the ultimate supplement bundle for athletes and fitness enthusiasts looking to achieve their goals. With delicious flavors and unbeatable performance, you won't find a better product combination anywhere else. Order now and experience the benefits for yourself!
Rebuild Stack Benefits:
Increase protein synthesis with 6g of branched-chain amino acids 2:1:1 ratio alongside 4g of essential amino acids.*
Replenish critical electrolytes and minerals lost in sweat for optimal performance with out 735MG electrolytes matrix*
1G of coconut water powder that contains p

otassium, magnesium, calcium, sodium. Coconut water powder also includes naturally occurring B vitamins that can improve cell metabolism and brain function.*  

300MG of sodium per serving from sea salt 39%
250MG of potassium, p

otassium is an essential mineral and electrolyte involved in heart function, muscle contraction, and water balance.*

Hydrat3 contains electrolytes derive from TRAACS® minerals, which stands for "The Real Amino Acid Chelate System". That helps promote cardiovascular health.*

Calci-K®

 

, developed by Albion Human Nutrition, is a patented hybrid of calcium and potassium electrolytes. Both are crucial in helping maintain proper hydration levels in the body and ensure optimal muscle contraction.*
Senactiv®

 

increases the production of citrate synthase, an important enzyme that is responsible for producing more ATP (energy our body uses).*
Senactiv®

 

has shown in a human clinical study that it can actually promote the removal of old cells and replenish with new healthy muscle cells.*
AstraGin®

 

supports increased absorption of a wide range of nutrients such as amino acids.*
Hydrat3 is a full transparent formula that combined BCAA/EAA that's also stacked with natural electrolytes to maximize performance with no artificial flavors, colors or dyes. Endure can be utilized before, during, and after your workout.*
Thiamine [B1] – metabolizes food into energy as ATP [Adenosine Tri Phosphate] for cells.
Riboflavin [B2] ­­­­– helps in red blood cells formation and conversion of food into energy as ATP for cells.
Niacin [B3] – supports food digestion and converts food into energy as ATP for cells.
Pantothenic Acid [B5] – helps in fat metabolism, the formation of red blood cells and conversion of food into energy as ATP for cells.
B6 – helps in red blood cells formation and production of energy by converting food into ATP.
Folate [B9] – essential for red blood cell formation and supports protein metabolism. Protein is the main building blocks for the body.
B12 – assists in red blood cell formation and production of energy.
Created for the community by those in the community.
* These statements have not been evaluated by the Food and Drug Administration. This product is not intended to diagnose, treat, cure, or prevent any disease.
Always consult with a qualified healthcare professional prior to beginning any diet or exercise program or taking any dietary supplement. The content on this website is for informational and educational purposes only and is not intended as medical advice or to replace a relationship with a qualified healthcare professional.
***WARNING*** Returned products must be sealed and not tampered with in any way. As the products are health food consumables and regulated by the appropriate Canadian or U.S. authorities and full details of the product including the complete list of ingredients are shown on our website, we regret that product cannot be returned due to flavor and consistency etc.