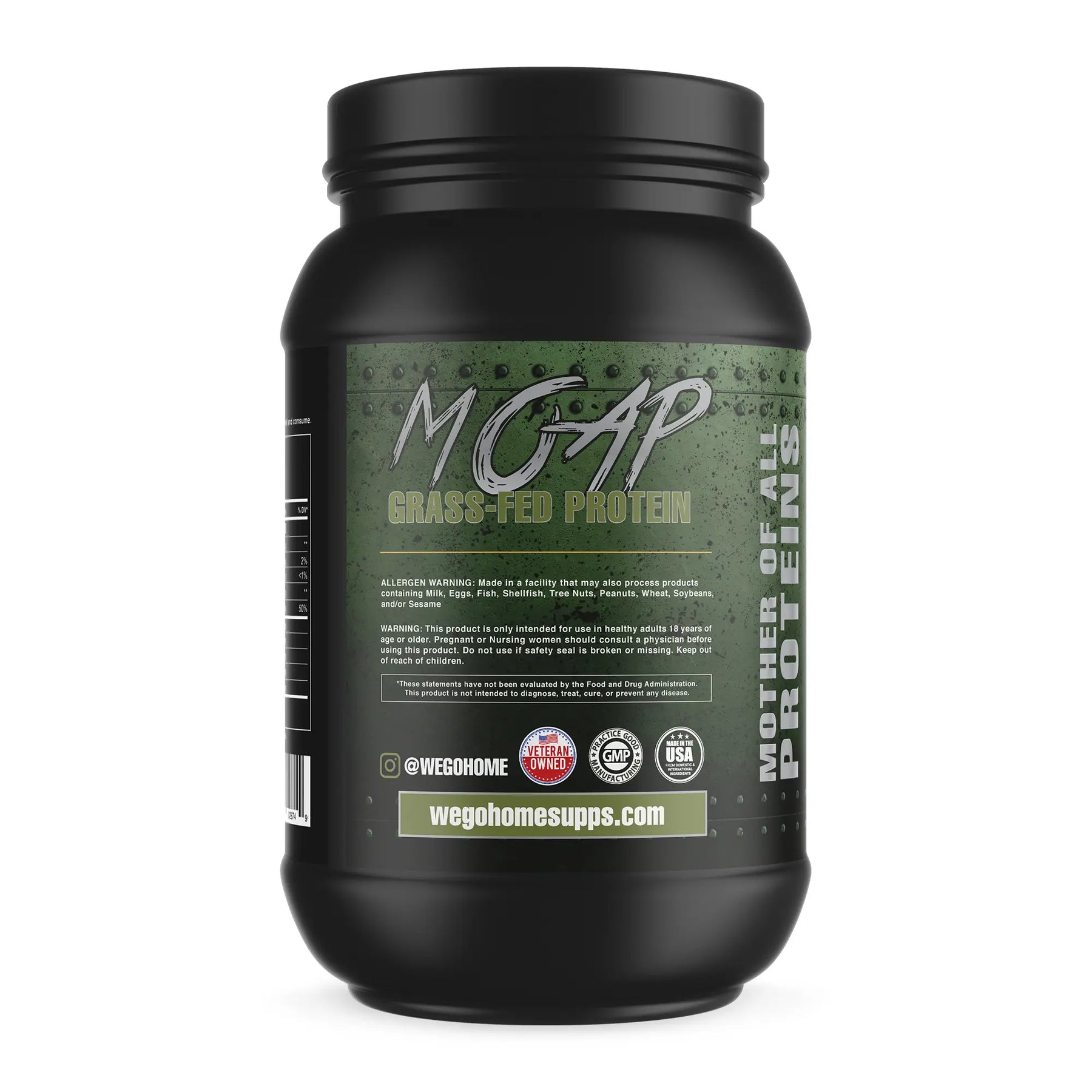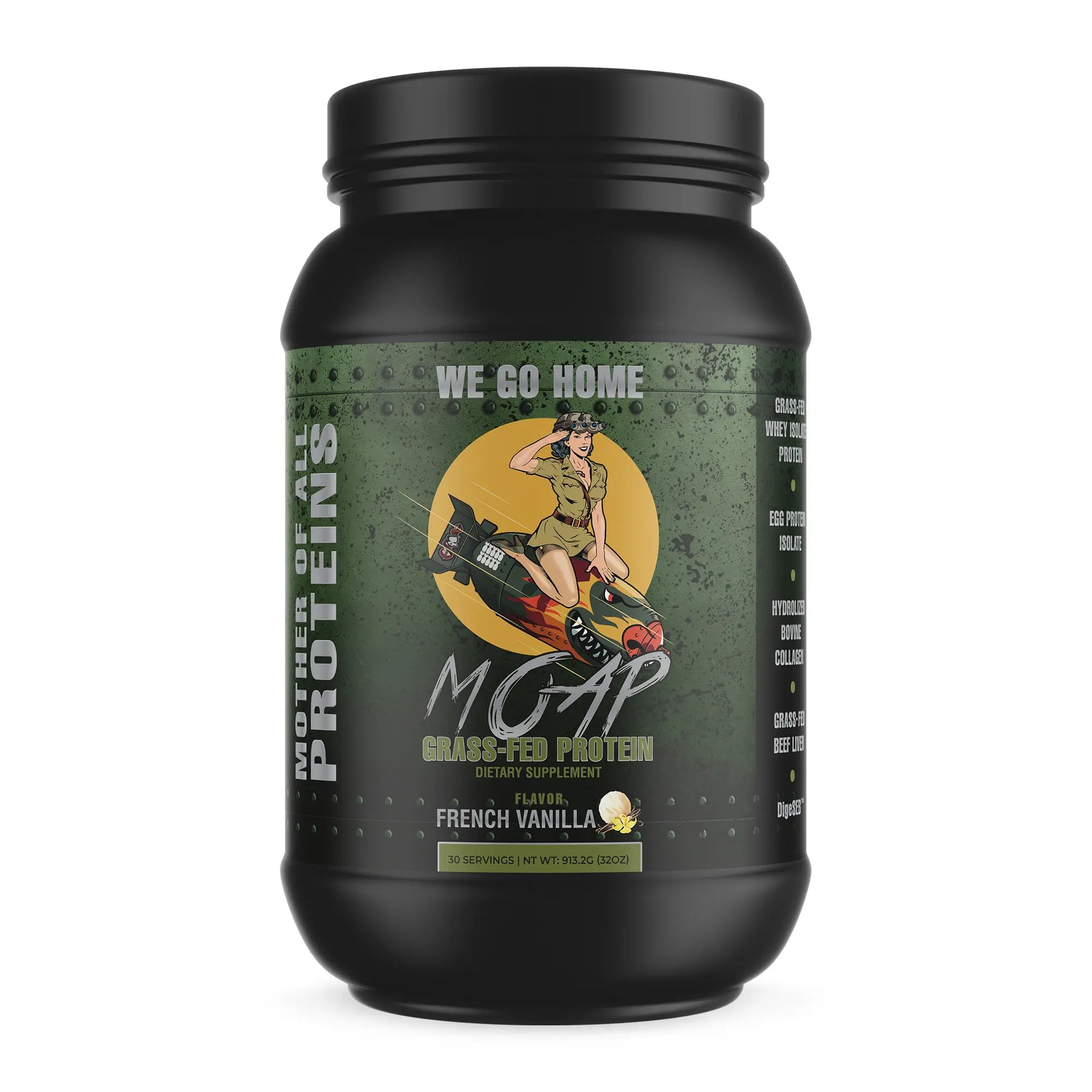 MOAP "Mother Of All Proteins"

We Go Home Supplements has developed a very high-quality, transparent blend of Grass Fed Whey Isolate Protein, Egg White Protein, Hydrolyzed Bovine Collagen, Grass Fed Beef Liver Powder and DigeSEB (digestive enzymes) a proven and effective digestive enzyme blends to promote optimal digestion and nutrient absorption.
Our own unique blend aids you with both post workout muscle recovery as well as tendon and ligament repair with the inclusion of Hydrolyzed Bovine Collagen. This combination maximizes muscular operation and physiological sustainability needed to adapt to training.
We understand the overuse of joints and ligaments can occur when you exercise which is why this combined formula will support joint health, boost your gut efficiency and enhance exercise recovery. Bovine Collagen will also deliver a boost in healthy hair and nail growth.

MOAP also includes Egg White Protein. Not only does egg white protein powder contain a very high amount of protein, ~25 grams of protein per 30 gram serving, but it is also very high-quality and digests easily.
That could even be an understatement; of all whole foods, eggs have the highest "protein digestibility-corrected amino acid score" which measures a protein's quality and digestibility.
Eggs are also high in the essential amino acids that need to be obtained through the diet and are the building blocks for initiating protein synthesis in the muscle which accelerates recovery and growth.
We could have called it good at this point, but it wouldn't be a We Go Home supplement if we settled for less, so we added one more key ingredient - grass fed beef liver powder.
Beef liver is a good source of energy and contains an abundance of Vitamin B. Vitamin B helps convert food into chemical energy to fuel our cells and supports the burning of fats into chemical energy. There is a wide variety of Vitamins B from organ meats in general, with beef liver containing the following:
Thiamine [B1] – metabolizes food into energy as ATP [Adenosine Tri Phosphate] for cells.
Riboflavin [B2] ­­­­– helps in red blood cells formation and conversion of food into energy as ATP for cells.
Niacin [B3] – supports food digestion and converts food into energy as ATP for cells.
Pantothenic Acid [B5] – helps in fat metabolism, the formation of red blood cells and conversion of food into energy as ATP for cells.
B6 – helps in red blood cells formation and production of energy by converting food into ATP.
Folate [B9] – essential for red blood cell formation and supports protein metabolism. Protein is the main building blocks for the body.
B12 – assists in red blood cell formation and production of energy.
Beef liver also reduces risk of Anemia, is high in cooper and glycine, helps strengthen bones, has detoxification benefits, is high in antioxidants, rich in CoQ10 and is an excellent source of active vitamin A! The best part is you won't be able to taste it in MOAP.
But with all these powerful ingredients together it wouldn't matter much if we didn't include a digestive enzyme called DigeSEB. DigeSEB is a patented blend of digestive enzymes that help breakdown carbohydrates, proteins and fats in the stomach. As we age, we produce fewer of these enzymes, and it can make digesting certain foods and supplements difficult. DigeSEB doesn't work like an antacid though. Instead, it uses three specific, targeted enzymes that aid in digestion (proteases I, II and III).
Created for the community by those in the community.
Directions For We Go Home MOAP Protein Powder: As a dietary supplement, mix 1-2 scoop in 10-12 oz. of water or your favorite beverage. Shake well and consume.
* These statements have not been evaluated by the Food and Drug Administration. This product is not intended to diagnose, treat, cure, or prevent any disease.
Always consult with a qualified healthcare professional prior to beginning any diet or exercise program or taking any dietary supplement. The content on this website is for informational and educational purposes only and is not intended as medical advice or to replace a relationship with a qualified healthcare professional.
***WARNING*** Returned products must be sealed and not tampered with in any way. As the products are health food consumables and regulated by the appropriate Canadian or U.S. authorities and full details of the product including the complete list of ingredients are shown on our website, we regret that product cannot be returned due to flavour and consistency etc.